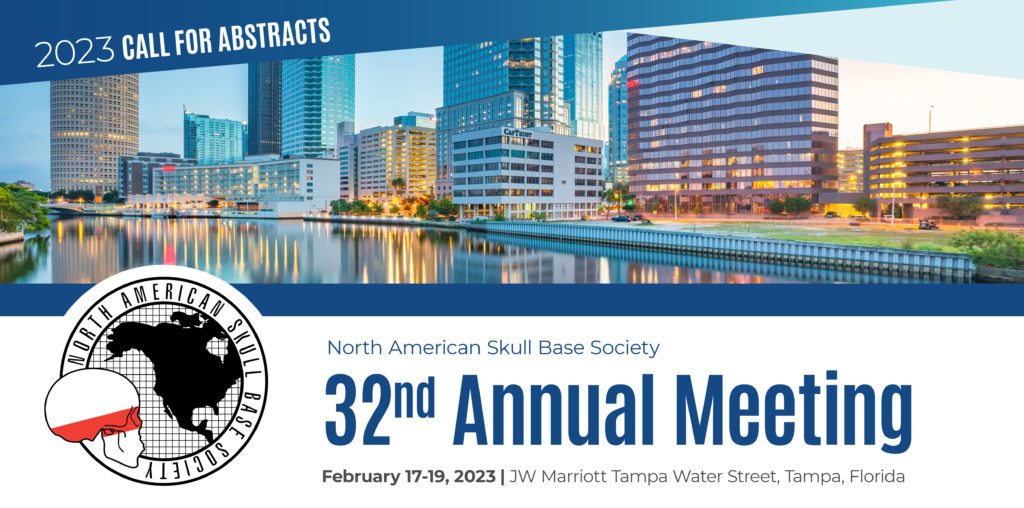 Submission Deadline:
Friday, September 16, 2022, 5:00 PM (Eastern Daylight Time)

Abstract Submission Supporting Document:
Manual for Abstract Submission Site
Video Preparation Instructions
---
NASBS will be accepting online submissions for either podium or poster presentation. Topics include:
Adjuncts To Skull Base Reconstruction
Anatomy Of The Skull Base
Aneurysms
Biology Of Skull Base Neoplasms
Cavernous Sinus Tumors
Cerebrospinal Fluid Leaks
Chemotherapy And Immunotherapy
Chiari Surgery
Clival Tumors/Chordoma/Chondroid Tumors
Complications Of Skull Base Surgery
Cost Utility Of Skull Base Treatments
Cranial Nerve Functional Outcomes Following Skull Base Surgery
Craniofacial Surgery
Craniopharyngiomas
Development Of Novel Technology
Diseases Of The Craniocervical Junction
DTI And Cranial Nerves Identification
Endoscopic Assisted And Keyhold Approaches
Endoscopic Transnasal Skull Base Surgery
Head And Neck Tumors
Imaging Of The Skull Base
Inflammatory And Infectious Skull Base Conditions
Innovative Techniques, Technology, And Approaches To The Skull Base
Intraoperative Imaging And Image Guidance
Intraoperative Neuromonitoring
Lateral Skull Base Surgery
Medical Management Of Skull Base Neoplasms
Meningiomas
Meningo/Encephaloceles
Mentorship
Microvascular Decompression
Minimal Requirements Of A Skull Base Team And/Or Program
Modern Evaluation Of Vision And Ocular Function
Molecular Drivers Of Skull Base Neoplasms
Novel Techniques and Treatment
Oncologic Outcomes
Orbital Tumors
Other Cranial Nerves Schwannomas
Pediatric Skull Base Surgery
Pineal Tumors
Pituitary Tumors
Quality Of Life Following Skull Base Surgery
Radiotherapy (IMRT, Proton, Chemoradiotherapy) and Its Complications
Sinonasal Neoplasms
Skull Base Reconstruction
Skull Base Surgery
Stereotactic Radiosurgery
Surgical Simulation
Telemedicine
Temporal Bone Tumors
Training And Education
Training The Future Skull Base Surgeon
Transorbital Skull Base Surgery
Vascular Malformations/Tumors
Vestibular Schwannomas
NASBS will also welcome the submission of surgical videos through the abstract process. Both, open and endoscopic approach videos will be considered. Videos will be reviewed for quality of the video, narration (must be in English), content, teaching value and overall interest to our audience. The video must be structured with a brief narrated slide show (no more than 3 slides) of the relevant clinical information, preoperative clinical imaging, a step-by-step narrated surgical video with the most important technical aspects of the case and post-operative imaging if relevant. The total length of the video should be no more than 6 minutes.
Important Notice: The following Abstract/Video Submission Policies will be firmly enforced:
No Previously Published Submission: The abstract/video submitted must present original work that has not and will not be published or presented prior to the 2023 NASBS 32nd Annual Meeting.
No Dual Submissions: The abstract/video must not have been submitted to any other upcoming meetings.
No Previously Presented Data: All abstracts/videos must be new and original content OR include at least 50% new data if previously presented at a meeting.
There is no limit to the number of abstracts/videos you may submit, but you may not submit a video abstract and a written abstract on the same study/data set. You must select either a written abstract submission or a video abstract submission.
Abstracts/Videos can be edited until the submission site closes. After the submission site closes and the abstracts/videos go into review, the content of the abstracts/videos may not be edited in any way. Please make sure to proof read and double check your abstracts/videos before submission. In addition, NASBS cannot update the content/text of your abstract/video to include new/updated data after acceptance notifications, although you will be allowed to include these updated findings in your actual presentation.
Written Abstract Submissions
The word limit for written abstract submissions is 500-words (not including title and authors) and a four (4)-image limit .
Up to four (4) images are allowed with written abstract submissions. Images must be no larger than 1MB in file size, and no larger than 900 pixels wide by 900 pixels high.
Tables may be included in the abstract submission but will go against the abstract's 400-word limit.
No reference to the authors or the institution should appear within the body of the abstract or in the abstract title.
Videos may not be submitted with a written abstract
Video Abstract Submissions
The Maximum length for submitted videos is Six (6) Minutes. NASBS is not accepting 3D Video submissions. If your video is accepted for presentation at the 2023 NASBS meeting, you will be required to bring a final copy of your video with you to the meeting.
A short (75-word maximum) written description of your video should be included when submitting your video abstract.
Images and tables should not be included in the short written description when submitting a video abstract.
Videos must have narration in English. Without narration, it will not be considered.
The video must be structured with a brief narrated slide show (no more than 3 slides) of the relevant clinical information, preoperative clinical imaging, a step-by-step narrated surgical video with the most important technical aspects of the case and post-operative imaging if relevant.
Your video should not contain any reference to the authors or the institution in the video and does not list authors or institutions on the title slide to allow for blinded review.
Videos may not include advertisement or promotion of products.
DO NOT include any music and DO NOT include any video clips or other materials/media copyrighted by any entity other than yourself
---
NASBS Policy on Owner/Employee of Ineligible Companies
The ACCME states "the owners and employees of ineligible companies are considered to have unresolvable financial relationships and must be excluded from participating as planners or faculty, and must not be allowed to influence or control any aspect of the planning, delivery, or evaluation of accredited continuing education, except in the limited circumstances outlined in Standard 3.2." Therefore, NASBS declares that no employees/owners of an ineligible company may present in NASBS CME accredited sessions. This policy is applicable to abstract authors and presenters.
Click here to view the ACCME's definition of ineligible company, owner and employee.
Please contact: [email protected] or [email protected] with any questions regarding NASBS Policy on Owner/Employee of Ineligible Companies.

---
President Dr. Lee A. Zimmer, on behalf of the NASBS, will be awarding four $500 Awards for the following categories:
Fred Gentili Clinical Excellence Abstract
Best Basic Science Abstract
Best International Abstract (Institution from outside North America)
The Rhoton Award: This award recognizes the best abstract addressing skull base anatomy via cadaveric dissection, morphometric analysis, radiographic modalities, or computer simulation. This award is being given in special recognition of Dr. Al Rhoton and his remarkable impact on the Anatomy of the Skull Base.
All authors who intend to apply for one of the awards must declare so during the abstract submission process. If you are selected as an award winner, you MUST submit a manuscript to the Skull Base Journal by February 7, 2023. Notification of winners will be sent in early November 2022 with abstract acceptance notifications.
Best Poster Award
President Dr. Lee A. Zimmer, on behalf of the NASBS, will be awarding one $250 Award for the Best Poster Award. The Best Poster Award will be selected on site at the Annual Meeting.
---
We encourage everyone to submit an abstract/video, whether or not you are a member of the NASBS.
For abstract related questions, please contact: Dan Berlant at 310-424-3326 ext 118.
For general information regarding the meeting, please contact: Carrie Ahern at 310-424-3326 ext 181 or Paula Claborn at 310-424-3326 ext 161.