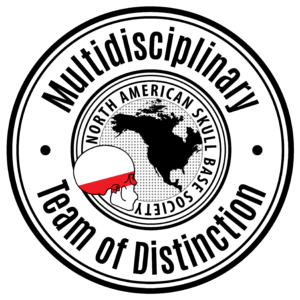 The North American Skull Base Society (NASBS) strives to create an inclusive focus for our society's educational offerings, programs, and members by welcoming a wide variety of healthcare professionals who provide care for patients with skull base pathology. In keeping with that philosophy, we recognize member institutions that have multidisciplinary skull base surgery teams that include physicians in a variety of specialties. Those teams include some combination of: Neurosurgery, Otolaryngology, Head and Neck Surgery, Rhinology, Otology/Neurotology, Ophthalmology, Radiology/neuroradiology, Radiation Oncology, Neurology, Oral Maxillo-Facial Surgery, Plastic Surgery, Surgical Oncology (board certified in General Surgery), Endocrinology, Pathology, or Medical Oncology.
Recognition as an NASBS Multidisciplinary Team of Distinction is based upon criteria as described below and may not be construed as a Medical Referral.
Designation is determined based on having at least four NASBS members as follows:
One member in an NASBS core specialty such as Otolaryngology, Rhinology, Head and Neck Surgery, or Otology /Neuro-otology
One member in the NASBS core specialty of Neurosurgery
Two members in NASBS non-core specialties including but not limited to Ophthalmology, Radiology/Neuroradiology, Radiation Oncology, Oral Maxillo-facial Surgery, Surgical Oncology (board certified in General Surgery), Plastic Surgery, Endocrinology, Pathology, Neurology, or Medical Oncology. These two members may be in the same non-core specialty, or two different non-core specialties.
We are pleased to present the following institutions that have been designated as an NASBS Multidisciplinary Team of Distinction:
Barrow Neurological Institute
Baptist Health South Florida
Brigham & Women's Pituitary/Neuroendocrine Center
Cleveland Clinic Florida
Duke University
Emory University
Grandview Medical Center
Henry Ford Hospital
Indiana University
Johns Hopkins University
King Saud University
Lehigh Valley Health Network
LSU Health Sciences Center
Mayo Clinic
MD Anderson Cancer Center
Medical College of Wisconsin
Mercy Health Cincinnati, The Jewish Hospital
Mount Sinai Hospital
New York Presbyterian-Columbia University
New York Presbyterian Hospital-Weill Cornell Medicine
Northwell Health
NYU Langone Health
Ochsner Medical Center
Oregon Health & Science University
Pacific Neuroscience Institute
Penn State Health
Rush University Medical Center
Saint Alphonsus Regional Medical Center
Stanford University
Swedish Neuroscience Institute
Texas Children's Hospital-Baylor College of Medicine
The Loyola Center for Cranial Base Tumors
The Ohio State University
The University of Chicago
Thomas Jefferson University
University of California, Davis-Center for Skull Base Surgery
University of California San Diego Health
University of Cincinnati
University of Miami Miller School of Medicine
University of Michigan-Michigan Medicine
University of Minnesota – Center for Skull Base and Pituitary Surgery
University of New Mexico
University of North Carolina
University of Oklahoma
University of Pennsylvania
University of Pittsburgh Medical Center
University of South Florida
University of Tennessee Health Science Center
University of Toronto
University of Utah Health Science Center
Washington University in St. Louis
Yale New Haven Health
Barrow Neurological Institute
 
If your institution is interested in being designated as a NASBS Multidisciplinary Team of Distinction:
For more information about the NASBS Multidisciplinary Teams of Distinction program please contact NASBS Executive Director, Paula Claborn, at (310) 424-3326 ext. 161, or paula@nasbs.org.