The North American Skull Base Society is happy to announce that the meeting app for NASBS 2020 is ready for download from the Apple and Google App Stores. This year, we have enhanced the search function to make it faster and more accurate, greatly improved the Twitter interface on the main screen, made it easier to share photos for those awesome slides and videos to come, added auto-suggest and auto-complete functionality for search terms, and results are now more relevant. We have also improved the user interface and added a comprehensive tutorial so first-time users get up to speed faster.
DID YOU KNOW?
The app will mostly work without an internet connection.  Simply download and install (or allow the latest data package to download) before you board your flight to San Antonio and you will be able to see all session data and abstracts. No need to pay for slow, expensive plane Wi-Fi!
We continue to push updates daily to the app containing descriptions, room and time changes, speaker assignments and more. If you need technical support or have any questions, comments, concerns please contact webmaster@nasbs.org!
Download on the Apple App Store | Get it on Google Play
For all other devices/Web Version
Activation Code: NASBS2020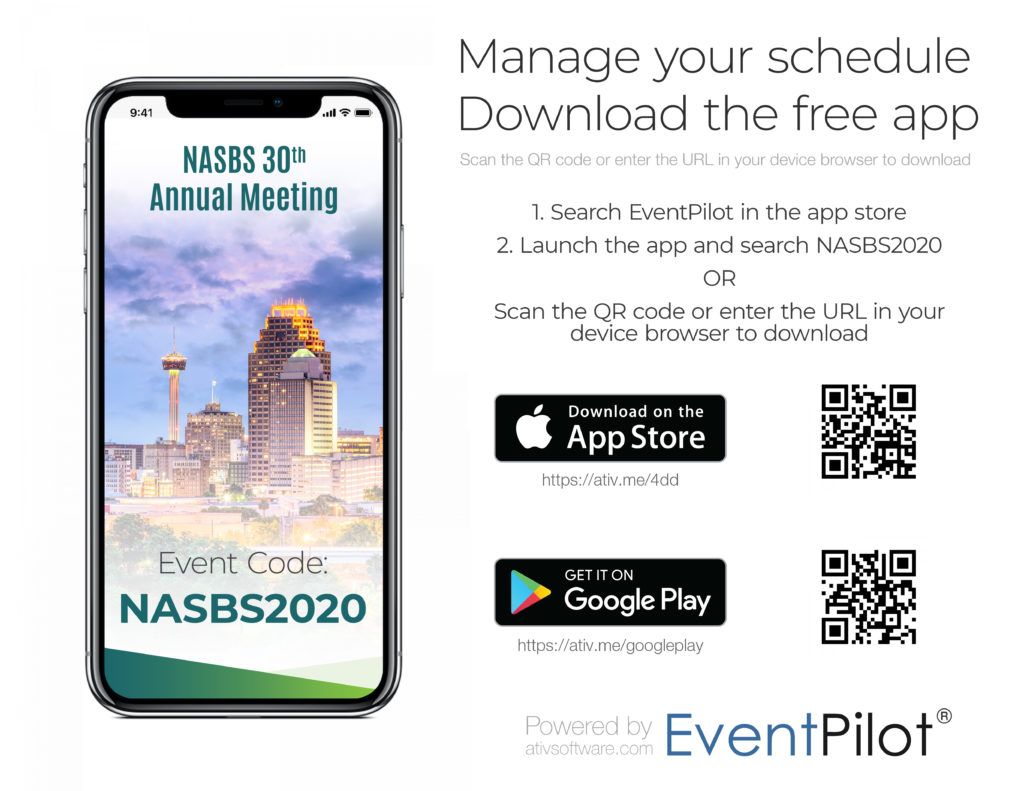 If you already have the EventPilot app from a previous meeting, you can simply switch it to the NASBS 2020 meeting data using these instructions:
Make sure you update your version of the Event Pilot app
Open the App. Your previously selected meeting should load.
Tap the "More" button on the menu at the bottom
Tap "Find Event" on the next screen
Enter "NASBS2020" (no spaces, not case sensitive) to load the NASBS 2020 meeting data.
If you need any further assistance or have question on how best to use the app, please contact me at (310) 424-3326 x 100 or by email at webmaster@nasbs.org