New Meeting Dates are March 3-5, 2017!
Registration opening this fall!
March 3-5, 2017
The Roosevelt New Orleans, New Orleans, Louisiana
March 1-2, 2017
Pre-Meeting Courses
LSU Health Lab, New Orleans, Louisiana
PRESIDENT: Jacques J. Morcos, MD, FRCS, FAANS
PROGRAM CHAIRS: Mustafa Baskaya, MD and Zoukaa Sargi, MD
PRE-MEETING COURSE CHAIRS: Carlos David, MD and Daniel Nuss, MD
NASBS President Dr. Morcos welcomes you to the 2017 Annual Meeting, please read more here.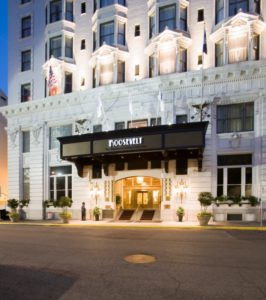 The Roosevelt New Orleans
New Orleans, Louisiana

"When the 116-year-old hotel reopened in 2009, it had not been seen by the public eye since Hurricane Katrina devastated the Louisiana coast in August 2005. In restoring the hotel, the goal was to celebrate the history of the building by uncovering the beauty of the details that had been buried over the years, bringing back the original grandeur of the hotel." – The Roosevelt New Orleans Hotel Website
Hotel will be open till Monday, January 30, 2017. Book your room as soon as possible as rooms will go fast!
To book your hotel, CLICK HERE.
---
Past Meeting
26th Annual NASBS Meeting
2016 Meeting Summary from Carl Snyderman, MD, MBA
February 12-14, 2016
Fairmont Scottsdale Princess, Scottsdale, Arizona
---
If you have any questions, please contact Adriana Michaels, Senior Meeting Planner at (310) 424-3326 ext. 159 or adriana@nasbs.org